Copied to clipboard Successfully
From the crashing of the waves to dreaming of a blissful splurge of colors, eight (8) Filipino abstract artists urge their audiences to experience a piece of their personal space – a creative realm that one cannot normally perceive based on real-world representations.
Intangible visions, so to speak, explore what's relatively unknown to the viewer, but extremely a familiar, sacred place to the artist.
"With these paintings, you can feel the various emotional impact of each piece to every participating artist," curator Arnold Perez says.
"Every solid brushstroke, every dab of color used, and every fluid shape and line applied on the canvas speaks volumes about each one's infinite imagination, yet they're deeply intimate and personal."
The exhibit features 8 abstract artists from various regions of the Philippines:
Ana Fe Ruiz
Talisay City, Cebu
Aristotle Mas
Las Pinas City, Manila
Kathleene Kaye Somera
Quezon City, Manila
Richer Fernandez
Cavite City, Cavite
Richerdan Ordiales
Baguio City, Benguet
Gauri Sandbhor
Taguig City, Manila
Tez Velasquez
Angeles City, Pampanga
Chrisanto Rentoy
Quezon City, Manila
Other Exhibitions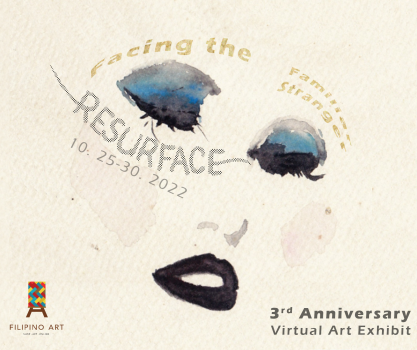 RESURFACE: Facing the Familiar Stranger
Oct 25 2022 - Dec 31 2025
FilipinoArt.ph celebrates its 3rd anniversary with the virtual art exhibit RESURFACE: Facing the Familiar Stranger that explores expressionist works by our artists depicting different responses to the "new normal" as we try to resurface from the pandemic's aftermath.
Show Exhibit
More Information